Fury as Sturgeon snubs Union Jack
NICOLA Sturgeon has sparked a diplomatic row after flying the German flag at her official UK residence despite failing to do the same with the Union Jack just weeks earlier.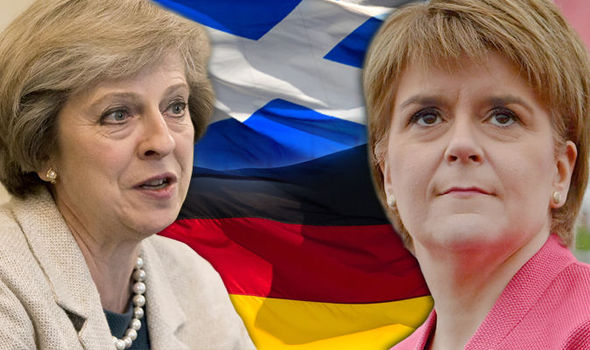 GETTY
Nicola Sturgeon refused to fly the Union flag but flew the German flag
In what many regard as a display of disdain for the United Kingdom, Ms Sturgeon, did not fly British flag during a visit by Prime Minister Theresa May last month.
Ms Sturgeon arranged for two Scottish flags to be on show when she entered the grace and favour Georgian townhouse for talks with Prime Minister May on July 15.
As part of her allowance, in addition to her salary of £144,687, Ms Sturgeon is entitled to a full complement of staff at her official parliamentary residence Bute House.
She holds meetings and dinners there as well as staying over and has everything right down to her Sky subscription paid for by UK taxpayers.
Now, as the heat continues to grow on her spending of public money on EU trips and on whether she has broken international laws by trying to negotiate with the bloc leaders, it appears Ms Sturgeon has more respect for Germany than she has for her own nation.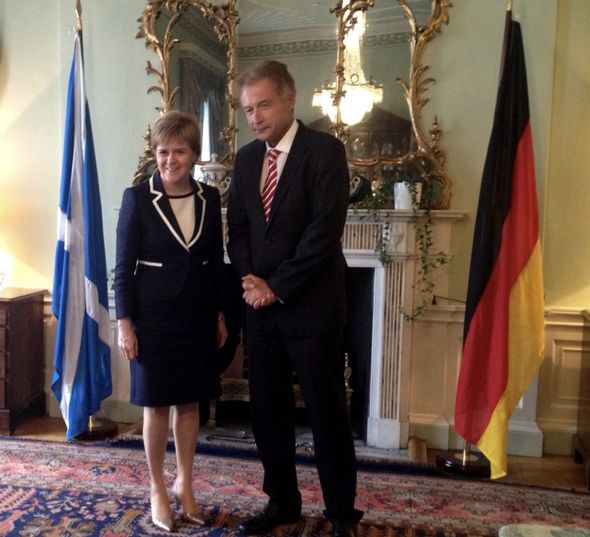 Twitter
Ms Sturgeon had no problem flying the German flag during Ambassador's visit
Related articles
The Scottish first minister shocked onlookers when she posed in front of the tricolour German flag during a meeting with that nation's ambassador.
The visit was Peter Ammon's, the German Ambassador to the Court of St James's, second appearance in Scotland in recent weeks.
Ms Sturgeon has not made public her meetings with the Ambassador of the Federal Republic of Germany who was appointed to the United Kingdom since May 2014.
However, she and Scottish Parliament Presiding Officer Ken McIntosh have both posed for photos in front of the Weimar Republic flag in recent weeks but snubbed the Union Jack.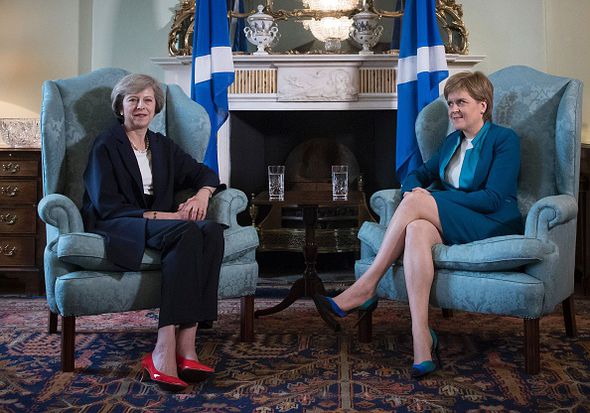 GETTY
Ms Sturgeon has refused to reveal the costs of her trips on the EU
If she is happy enough to display the German flag, then it only makes sense that she should fly the British flag
Scottish Conservative chief whip, John Lamont
A source said: "Nicola is on the verge of being frozen out completely.
"Lawyers are currently poring over the act of settlement and there is a case being made against her.
"Her disdain for the democratic will of the people and for the rest of the United Kingdom is starting to be noticed overseas.
"She is fast becoming a pariah, countries realise she has no mandate and are therefore trying to smooth over the ructions she's causing in the EU."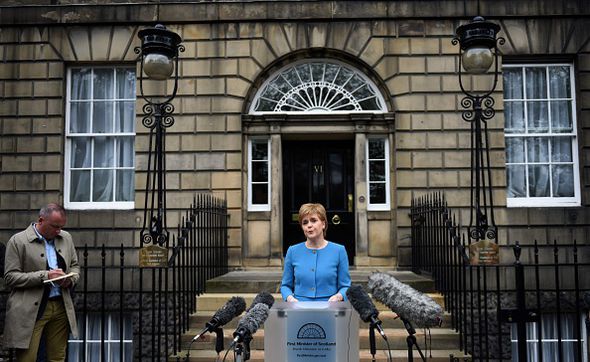 GETTY
Ms Sturgeon does not fly the nation's flag despite being paid by UK taxpayers
Ms Sturgeon lost her majority in the Scottish Parliament in May's election.
Her party is embroiled in one scandal after another as they try to gloss over police investigations, sex allegations and mismanagement claims.
Now the Tories say Ms Sturgeon is becoming a laughing stock in her own backyard.
According to Parliamentary sources Prime Minister May noted the broken pavement outside Bute House when she visited for a photocall last month.
GETTY
Mrs May added a splash of colour to her meeting at Bute House with these red shoes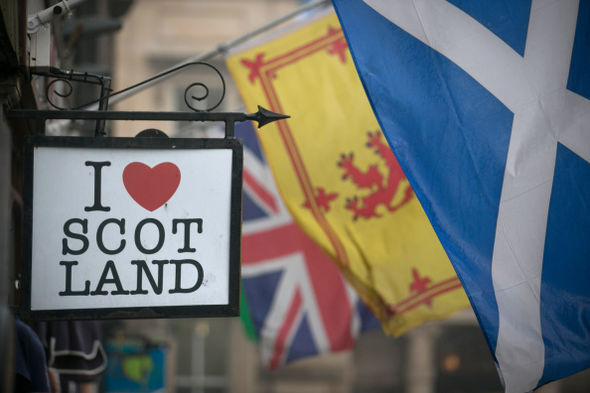 GETTY
Scotland voted to remain within the United Kingdom
The source added: "Bute house is in decline, even the street outside is falling apart. Now Nicola is running around spending UK taxpayer's money without a mandate.
"It's not looking great ahead of the opening of Parliament on Monday.
"Politicians from cross party groups are getting ready to take her on.
"First Minister's questions are going to be awkward."
Scottish Conservative chief whip, John Lamont MSP poked fun at Ms Sturgeon.
He said: "Nicola Sturgeon's aversion to the Union Jack is almost comical, and it's no wonder that people are starting to ask why it's not been on display in the past.
"If she is happy enough to display the German flag, then it only makes sense that she should fly the British flag the next time the Prime Minister visits."
When approached by Express.co.uk, a Scottish Government spokeswoman said: "As is normal procedure for a UK inter-governmental meeting of this nature, the configuration of the venue was discussed and agreed with colleagues from No 10 during an advance visit."
Related articles
Scottish First Minister Nicola Sturgeon appoints OWN Brexit minister
Shroud of secrecy as Sturgeon rejects request to publish costs on t…
Stop EU farce and sort NHS Sturgeon: Medics blast SNP as Scottish …
Content retrieved from: http://www.express.co.uk/news/uk/706375/Fury-as-Sturgeon-snubs-Union-Jack-for-PM-visit-to-Scotland-but-now-flies-GERMAN-flag.