Black Lives Matter UK Threaten To Attack and Rob Soldiers
Black Lives Matter UK (BLMUK) has threatened to rob and "strip" British soldiers after the army issued an alleged "racist" tweet. The group has also told the Queen and members of government: "Your days are numbered."
Yesterday, the Army apologised for tweeting a picture of a soldier with green camouflage paint on his face, after users of the social media site said it was an example of "black face" – a supposedly racist practice whereby white people dress up as ethnic minorities.
"The British Army went blackface in the jungle in Belize, citing that soldiers need a sense of humour. Come through the bits like that and you will get stripped down out of your uniform and sent back to the base without your weapon," the group wrote on their Facebook page.
In an official statement, they added: "To all the high-ranking officials of the Army, the Secretary of State for Defence, and the pompous fool you swear allegiance to: Your days are numbered."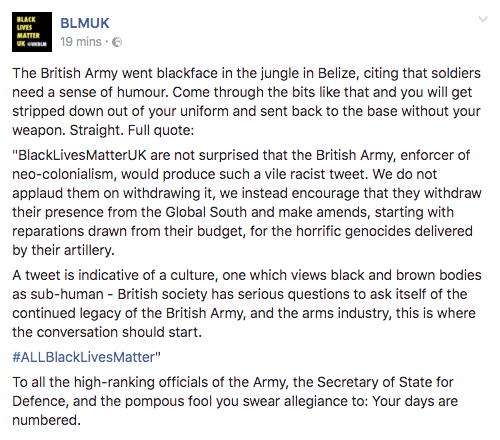 They also wrote: "BlackLivesMatterUK are not surprised that the British Army, enforcer of neo-colonialism, would produce such a vile racist tweet.
"We do not applaud them on withdrawing it, we instead encourage that they withdraw their presence from the Global South and make amends, starting with reparations drawn from their budget, for the horrific genocides delivered by their artillery.
"A tweet is indicative of a culture, one which views black and brown bodies as sub-human – British society has serious questions to ask itself of the continued legacy of the British Army, and the arms industry, this is where the conversation should start."
Responding to the allegation yesterday, an Army spokesman said: "The content of the tweet shows a picture of a soldier wearing camouflage and concealment measures, standard for jungle training in Belize.
"We can see how the tweet may have been misinterpreted, have immediately removed it and apologise for any offence it may have caused."
Content retrieved from: http://www.breitbart.com/london/2016/10/21/black-lives-matter-uk-threaten-attack-rob-soldiers-black-face-tweet/.