French Truckers Block Road In Calais Protest
Hauliers and farmers are converging on Calais this morning as pressure grows on authorities to tackle the "Jungle" migrant camp.
Drivers stage a 'go slow' demonstration on the A16 to Calais
French hauliers and unionists are holding up traffic around Calais as part of a protest to get part of the "Jungle" migrant camp removed.
Demonstrators have blocked the A16 – the main route for freight and passengers heading to Britain either via the Channel Tunnel or the Calais port.
They have been joined by around 200 farmers angry at migrant action which has apparently destroyed crops and caused extensive damage to farms in the area.
Business owners and Calais residents are also marching in protest, ahead of a "human chain" demonstration at the port city's Stadium de l'Epopee.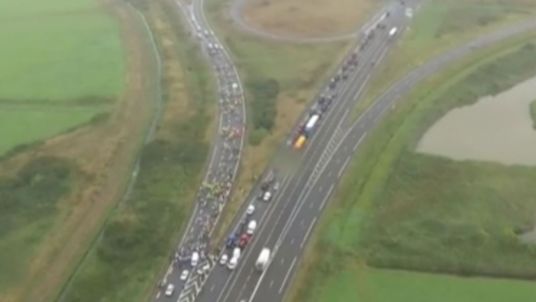 Pressure has been growing on French authorities to tackle the "Jungle" camp, which has swelled in size in recent months, and talks took place between protest organisers and French interior minister Bernard Cazeneuve on Friday.
Speaking to Sky News, organiser Antoine Ravisse said: "We are here today because of the lack of action from Francois Hollande and the French government.
"Every day you have people who attack the lorries and cars with families, people are scared to use that road and scared to come to Calais.
"This is absolutely unacceptable."
The Road Haulage Association (RHA) has said lorry drivers have vowed they were "in it for the long haul" and will stand their ground until action to dismantle the "Jungle" camp begins.
RHA chief executive Richard Burnett said: "It seems certain that traffic crossing from the UK will find it almost impossible to leave the port as access to the A16 is denied.
"The inevitable repercussions of this will surely mean that the authorities on this side of the Channel will have no alternative but to deploy Operation Stack.
"This will bring yet further misery to hauliers bound for mainland Europe and of course for the people and businesses of Kent."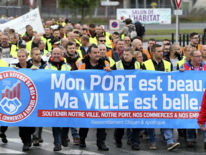 Harbour workers, storekeepers and residents take part in Calais protests
Up to 9,000 migrants from countries including Sudan, Syria and Eritrea are living in the "Jungle", despite efforts to reduce numbers by dismantling the southern section of the camp earlier this year.
People traffickers are reported to have resorted to extreme lengths in their efforts to reach the UK, torching vehicles, throwing petrol bombs and cutting down trees to block roads before threatening drivers with chainsaws and machetes.
Gangs are paid thousands of pounds by vulnerable migrants to get them to Calais, from where some are smuggled to Britain where they are forced to pay off huge debts to the traffickers.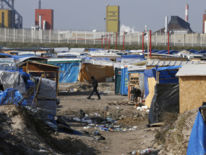 The 'Jungle' camp at Calais
Traffickers have even deliberately caused car crashes on roads leading to the Calais port by hurling large objects at cars, then stowing away on lorries caught up in traffic jams behind the accidents.
Nicolas Lotin, who runs a logistics company in Boulogne, said: "Every day we have to wonder whether our working day will be ruined, whether a migrant will sneak under the truck's canvas.
"If the goods are damaged, they have to be immediately transported back to the home depot."
David Sagnard, president of the FNTR national truck drivers' federation, said that in recent months the situation in Calais had become "worse and worse".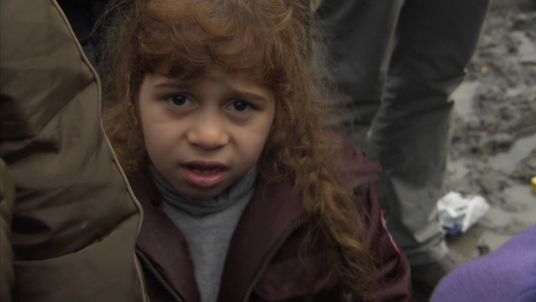 What Next For Calais Camp Refugees?
He added: "Before, it was just attempts to get on trucks.
"Now there is looting and wilful destruction, tarpaulins are slashed, goods stolen or destroyed.
"Drivers go to work with fear in their bellies and the economic consequences are severe."
More follows…
Content retrieved from: http://news.sky.com/story/travellers-face-disruption-in-calais-migrant-road-block-protest-10565664.