Huge street brawl at island overwhelmed by migrants
VIOLENT clashes broke out between locals, migrants and police as frustrated residents took out their anger at a nearby overcrowded migrant camp
PUBLISHED: 00:01, Fri, Sep 16, 2016
IG
Locals are angry over the rising number of petty crimes they say are committed by stranded migrants
Protesters voiced anger at the Greek government's handling of the migrant crisis, which has left the cramped camp in Chios a whopping three times over capacity.

Enraged locals vented their anger at the rising number of petty crimes alleged to be committed by the stranded migrants.

They demanded authorities deport the 3,500 refugees and migrants held on the island immediately.

Riot police were deployed in the evening to keep a furious crowd of 800 people away from the two camps.
Some of the migrants hit back at the locals, throwing rocks at them
Officers fired tear gas when the protesters attempted to smash through the police cordon and reach the camps.

Video footage of the clashes filmed the locals chanting anti-migrant slogans and singing the Greek national anthem.

Four camp volunteers and a migrant were also briefly detained during the evening ordeal, according to the police.

Some of the migrants hit back at the locals throwing rocks at the demonstrators.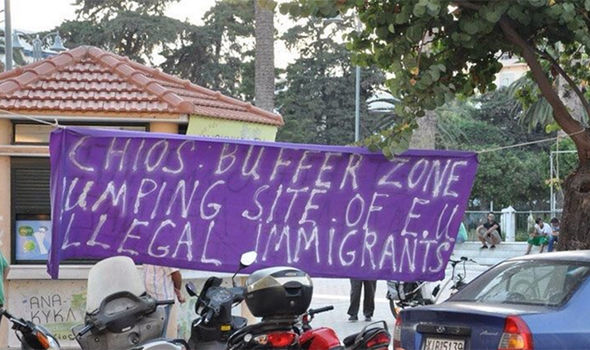 IG
Police fired tear gas when about 150 protesters marched to the island's refugee camp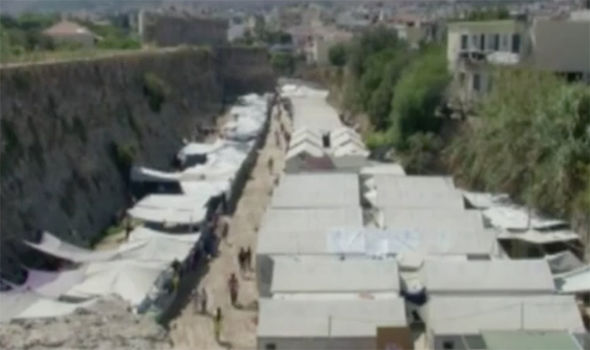 IG
Chios is presently holding three times more than its official capacity
Journalists at the scene reported that the Greek neo-Nazi party Golden Dawn was also involved in the protests.

At least one journalist was hospitalised following clashes with the protesters.

Locals called for another demonstration on this weekend.

Earlier this week, migrants protested their living conditions by setting their mattresses ablaze.
Following this, a fight broke out within the camp between Senegalese and Algerian migrants.

The island has been hit hard by the migrant crisis as some 32,292 migrants have arrived via the Turkey-Greece sea route this year alone according to the United Nations.

UNHCR reports that 3,316 migrants are still stranded in reception camps on Chios – significantly higher than 1,000 official capacity.

They are largely trapped on the island because the European Union deal with Turkey for migrant readmission has stalled in recent weeks.

Recent reports suggested that Chios could be braced for even more migrant and refugee processing centers, despite authorities acknowledging the "dangerously explosive climate".
Content retrieved from: http://www.express.co.uk/news/world/711395/Locals-criminal-migrants-violent-brawl-refugee?utm_source=traffic.outbrain&utm_medium=traffic.outbrain&utm_term=traffic.outbrain&utm_content=traffic.outbrain&utm_campaign=traffic.outbrain.