Merkel refuses to admit she was wrong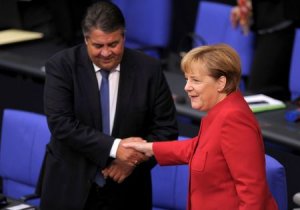 View photosGerman Chancellor Angela Merkel and German Economy Minister Sigmar Gabriel arrive for a meeting at the lower house of parliament Bundestag on 2017 budget in Berlin, Germany, September 7, 2016. REUTERS/Stefanie Loos By Madeline Chambers and Michael Nienaber
BERLIN (Reuters) – Chancellor Angela Merkel hit back at critics of her open-door migrant policy on Wednesday after her conservative CDU party was humiliated in a regional vote, urging all parties to fight the anti-immigrant Alternative for Germany (AfD) with facts.
In a combative speech to the Bundestag lower house of parliament, Merkel directly addressed the outcome of Sunday's election in the eastern state of Mecklenburg-Vorpommern where the AfD pushed her Christian Democrats into third place.
"All of us should realise the AfD is a challenge not only for the Christian Democrats … but that they are a challenge for everyone in this house," she said, suggesting that the AfD's anti-immigration policies were a threat to the values of society.
In the weekend vote, the AfD, which has fed on fears about the influx of around a million migrants to Germany last year, stole voters from all parties and mobilised many people who had previously not voted. It is now represented in nine of Germany's 16 states and looks poised to enter the Bundestag next year.
Merkel, who is expected to stand for a fourth term in next year's federal election, said much had already been achieved since the height of the migrant crisis a year ago.
"We have behind us a year full of decisions.. to reduce the number of migrants," she said. She added her government had taken steps to help local authorities pay for refugees, passed an integration law and accelerated repatriations of migrants denied asylum and boosted security.
"The situation today is much better than it was a year ago. But there is still much to do," she said.
"Change is not a bad thing … Germany will remain Germany with everything that we love and treasure," she said.
In a swipe at her conservative partners in Bavaria who have criticised her for failing to respond to voters' worries about migrants, she said politicians should tone down their rhetoric.
If parties tried to win a quick advantage after "a black eye" from a regional election, "the winners will be those who reach for slogans and seemingly simple answers," she said.
Merkel said politicians must learn the lessons by taking peoples' worries seriously and explaining the facts
"I am sure that if we stick to the truth, we will win back what we need – peoples' trust," she said.
The AfD is also expected to perform well in an election in the city of Berlin on Sept. 18. An INSA poll on Tuesday put them at 15 percent nationally, compared to 30.5 percent for Merkel's conservative bloc which shares power with the Social Democrats.
Merkel also defended the EU's migrant deal with Turkey and her relationship with Ankara. Critics have accused Merkel of cosying up to Turkish President Tayyip Erdogan despite his patchy human rights record, especially after a July coup attempt."The deal with Turkey is a model for further similar agreements," she said, naming Egypt, Libya and Tunisia.
(Writing by Madeline Chambers; Editing by Richard Balmforth)
Content retrieved from: https://uk.news.yahoo.com/germanys-merkel-hits-back-critics-immigration-policy-080109167.html.