Two families attacked in France for wearing shorts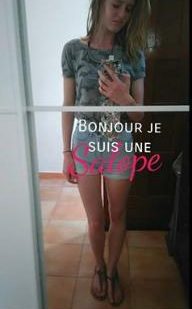 18-year old girl insulted for wearing shorts in Toulon, southern France
8 September 2016 • 6:42pm
Two families on a cycle ride in Toulon, southern France, came under violent attack after assailants hurled insults at two female partners for wearing shorts, according to prosecutors.
The attack, carried out by a group of youths from a housing estate in the Mediterranean port town, has sparked claims that parts of France are prey to an Islamist "morality police".
Two couples with their three children and a friend were on a Sunday afternoon outing on bikes and roller blades when the "incredibly violent" attack took place, according to Var Matin, the local newspaper.
They were passing near the Cité des Oeillets, an estate in eastern Toulon, when a group of adolescents starting insulting the women of the group because of their shorts, including jibes such as: "Dirty whore, get naked."
When their male partners sought to intervene, a larger group of youths arrived and a fight ensued, according to the Toulon prosecutor; Bernard Marchal.
"The male partners had simply asked them to respect their women and that sparked the fight. The three men were violently beaten on the face in front of their children. This was provocation of a sexual nature with the intention of forcing a reaction out of the men present," said Mr Marchal.
One of the men was severely beaten and has had to take a month off work, while another had his nose broken. The women were lightly injured and the children suffered from shock.
Thanks to CCTV, police were able to identify and arrest two suspects, aged 17 and 19, and a preliminary investigation has been launched to identify other suspects.
The attack comes a month after an 18-year old girl was spat at and insulted by a group of girls who found her shorts indecent.
Maud Vallet posted a Facebook picture of herself in shock afterwards with the caption: "Hello, I'm a slag". The post received over 81,000 "likes", or signs of readers' anger and sadness over the incident.
She recounted asking her taunters: "Why are you calling me a whore because I'm wearing shorts while a man can walk around the centre of town bare-chested without anyone saying anything?"
She said they replied: "Because you're a woman and should respect yourself, you idiot."
A solidarity "march in shorts" was held in the town.
The attack comes after a summer of tensions over dress codes in France, in which a string of French resort towns banned the burkini, the body-covering swimsuit, on grounds it was against secularism and posed a security threat.
Debate over whether the bans should be upheld has split the French political classes, and sparked uproar abroad, including in Britain.
While there was no proof the shorts attack was ideologically motivated, on Thursday, Céline Pina, a former regional councillor for the Paris area who wrote a book called Guilty Silence, warned of "Islamist violence that is growing everywhere in France against women."
"The burkini question, the rise of the full veil, the attack on women in shorts and beating up their partners contributes to the same logic, namely to turn a woman's body into a social and political issue, a litmus test of the advance of an ideology within society," she wrote in Le Figaro.
Content retrieved from: http://www.telegraph.co.uk/news/2016/09/08/two-families-attacked-in-southern-france-for-women-wearing-short/.