They want us to be Islamised. Translator at German refugee camp says
'They want us to be Islamised. They despise our country and our values': Translator at German refugee camp says Muslim migrants display 'pure hatred' of Christians
Arabic speaker has worked in several migrant centres across GermanyUnearthed harrowing revelations and went to mosques to find out more Translator, 39, said she found Muslims wanted to 'destroy' Christians
Published: 09:02, 17 November 2016 Updated: 15:24, 17 November 2016
A translator at German refugee camps has revealed Muslim migrants are showing 'pure hatred' toward Christians and want the country to be Islamised.
The Arabic speaker worked in a number of asylum centres across the country and went undercover to discover migrants were preaching 'pure hatred' about non-Muslims and women were planning to have more children to 'destroy Christians'.
She said the hostility is also visible at asylum homes, where Muslim children refuse to play with Christians.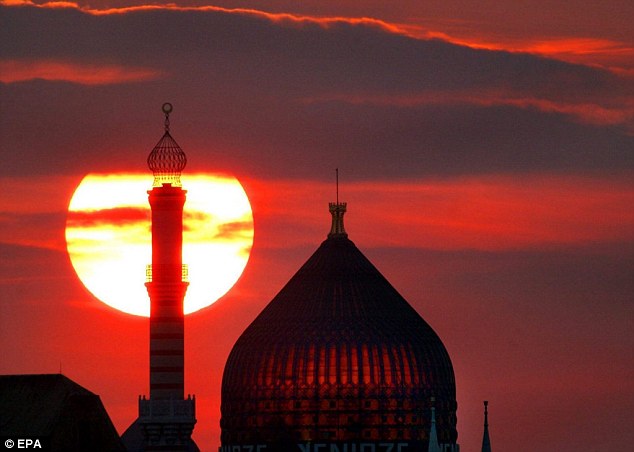 The Eritrean woman, 39, worked in several refugee centres across Germany and found fellow translators were part of the problem.
Talking to Catholic website Kath.net, she said they 'show their true colours' when Christians are out of ear-shot and they have a Muslim-only audience.
'They want Germany to be Islamised. They despise our country and our values,' she said.
She had arrived herself as a refugee in 1991, and has volunteered in asylum centres for five years to 'give something back'.
After unearthing the worrying findings, she headed to the mosques to find out more.  
'Pure hatred against non-believers is preached, and children are brought here from an early age here in Germany,' she told Kath.net.
'It's very similar in asylum housing, where Muslim boys refuse to play with Christians. 
'Some women told me "We will multiply our numbers. We must have more children than the Christians because it's the only way we can destroy them here".'
In an attempt to quell these feelings, she was told helping and defending Christians is a sin.  
Germany has been rocked by terror attacks this year, heaping pressure on chancellor Angela Merkel's open-door immigration policy.
A bloody week of violence that rocked Germany began on July 18 when Pakistani teenager Riaz Khan Ahmadzai, 17, posing as an Afghan refugee, hacked at passengers on a train in Wurzburg with an axe, wounding five.
He was shot dead by police.
Four days later mentally unstable German-Iranian teenager Ali Sonboly shot nine people dead during a rampage through a shopping centre in Munich before taking his own life.
Sonboly claimed he was taking revenge for being bullied at school with no political motive to the murderous rampage.
Content retrieved from: http://www.dailymail.co.uk/news/article-3944874/They-want-Islamised-despise-country-values-Translator-German-refugee-camp-says-Muslim-migrants-display-pure-hatred-Christians.html?ito=social-twitter_mailonline.