'People in the UK need to WAKE UP'
A FORMER British Army soldier who is fighting ISIS has warned "people in the UK need to wake up" after the wave of horrific terror attacks in Europe.
Britain has been named by ISIS as the next terrorism target after the recent massacres in Germany and France.
Hours after the brutal murder of 84-year-old French priest Jacques Hamel in Normandy, images threatening atrocities in London and other capital cities were widely posted on a jihadi messaging app.
Britain's security in the wake of the horrendous attacks
Quick to answer the request was Alan Duncan, a former British Army soldier who is fighting ISIS in Kurdistan.
Speaking to Tom, Alan warned: "Liberal lefties need to wake up."
He urged: "People in the UK need to wake up. The liberal leftie brigade screaming about armed police and all the rest of it? Sorry, but wake up.
"Does it have to be on your street?"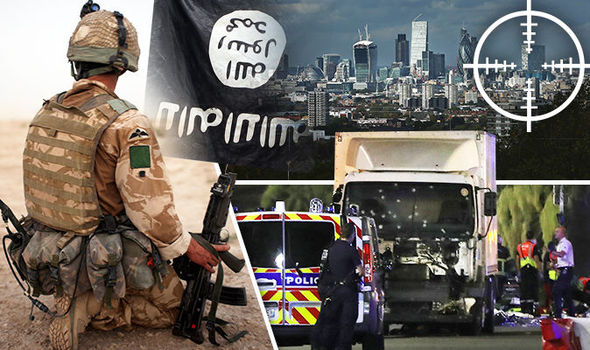 Working as a sniper with the Peshmerga, Alan said he couldn't stand by and watch the rise of ISIS and so flew to Iraq 19 months ago to join the fight.
As well as sharing his horrifying stories of the terror that ISIS are inflicting on innocent people in Iraq and Kurdistan, the fighter spoke strongly about what he feels should happen in the UK.
He continued: "Daesh are losing, they're losing big time.
"We have airstrikes in front of my location…[British] people who were screaming about these airstrikes and drones?
"You come across here and see the crimes that are being committed? Then you scream against all of that.
"Then you scream against armed police in the street.
"Because they're losing on the battlefield, any PR is good PR for them… it makes them look strong. They want fear, they want hate, they want division in the West."
While there are no specific threats to the UK's Christian community, churchgoers should be alert, according to police advice which was sent out on Tuesday (July 26).
Metropolitan Police Deputy Assistant Commissioner Neil Basu said: "Following recent events in France, we are reiterating our protective security advice to Christian places of worship and have circulated specific advice today.
"We are also taking this opportunity to remind them to review their security arrangements as a precaution.
"While the threat from terrorism remains unchanged at severe, we urge the public to be vigilant."
Content retrieved from: https://www.express.co.uk/news/uk/694333/LBC-British-soldier-harsh-words-UK-terror-attacks.