Jeremy Corbyn rules out pledge to cut immigration
Newly re-elected Labour leader to say that party will not 'sow division' despite pressure from backbenchers in wake of vote to leave EU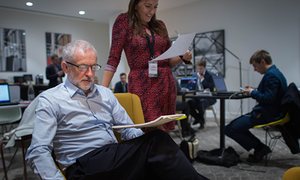 Jeremy Corbyn repeatedly said during the referendum campaign that he did not believe Britain should seek to cut immigration 
Photograph: Stefan Rousseau/PA
Jeremy Corbyn will say on Wednesday that a Labour government will not "sow division" by promising to cut immigration, despite pressure from key backbenchers to shift the party's stance after the Brexit vote.
Freedom of movement has emerged as a fresh dividing line in the party, with some MPs saying the message from the public in the vote was that levels of immigration from the EU had become too high.
But the Labour leader will tell his party: "A Labour government will not offer false promises. We will not sow division or fan the flames of fear. We will instead tackle the real issues of immigration – and make the changes that are needed."
His spokesman told journalists: "He is not concerned about numbers," adding that rather than seeking controls on immigration, Labour would seek to mitigate its effects on low-paid workers by reintroducing a "migrant impact fund".
A £50m fund to ease the pressure of migration on public services was introduced by Gordon Brown in 2008 and scrapped two years later by David Cameron under the coalition in summer 2010. "As long as the consequences of immigration are tackled, it is not an objective to reduce the numbers, to reduce immigration," the spokesman said.
Corbyn repeatedly said during the referendum campaign that he did not believe Britain should seek to cut immigration. The prime minister, Theresa May, has made clear she will seek controls on freedom of movement when Brexit negotiations commence; and some Labour MPs believe that message will resonate with working-class voters who feel their wages are under pressure.
The Leeds West MP, Rachel Reeves, told a fringe meeting on Tuesday that her constituency was like a "tinder box" and voters' concerns about immigration and lack of control over their lives could "explode" on to the streets if they remain unaddressed.
Reeves is among several prominent backbenchers, including Chuka Ummuna, Stephen Kinnock and Emma Reynolds, who have responded to the Brexit vote with calls to reopen the debate on freedom of movement.
The shadow home secretary, Andy Burnham, will strike a different tone from Corbyn in his conference speech, joining the calls for immigration reform. Burnham will call for a "fair Brexit" that addresses the concerns of people who "feel taken for granted and abandoned by the political class".
"Labour must face up fully to this fact: millions of our lifelong supporters voted to leave the EU and voted for change on immigration," he will say.
Reeves, a former shadow work and pensions secretary who sits on the Treasury select committee, told a fringe meeting: "There are bubbling tensions in this country that I just think could explode." She said there had already been three racist incidents since the referendum and she feared there could be more cases if the public's concerns are not addressed.
She told the Guardian: "This referendum has revealed that there are a lot of people [who] feel they don't have a voice, that this country is not working for them and they have faced a combination of years of austerity and a rapid pace of change in their community they didn't vote for.
"I'm saying we need to have some controls on immigration," she said, adding, "You can't just close down that discussion or label people as racist if they say that."
Corbyn's restatement of his commitment to uncontrolled immigration comes as he tries to tempt backbenchers to return to fill more than 60 posts in his shadow cabinet vacated by rebel MPs who resigned en masse after the referendum.
Talks between Corbyn and potential shadow ministers are under way and he said he plans to complete a reshuffle before parliament returns after the party conference season – which would mean announcing new recruits next week.
Content retrieved from: https://www.theguardian.com/politics/2016/sep/27/jeremy-corbyn-rules-out-pledge-cut-immigration.