Turks use IS as excuse to invade Syria
Turkey has launched a military operation to free a Syrian town held by Islamic State, according to state media and military sources.
As many as 20 tanks have crossed into Syria, according to reports, with between six and a dozen spotted by journalists from AFP and Reuters news agencies.
The numbers have not been confirmed by government officials but witnesses reported clashes at the border and intense bombardments inside Syria.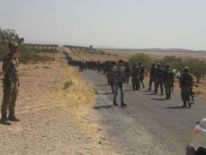 FSA fighters walking along a road towards Jarablus
Sky sources inside Syria have seen vehicles and troops from the Turkey-backed Free Syrian Army also heading for Jarablus.
The Turkish tanks had been firing on Islamic State targets across the border in the Syrian town of Jarablus since early Wednesday in the operation, named Euphrates Shield.
Turkish fighter jets – supported by US-led coalition aircraft – also struck Islamic State targets near the border town.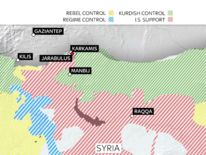 Turkey is worried about IS fighters on its border with Syria
In retaliation, mortar rounds were fired from the IS-held Jarablus, hitting the Turkish border town of Karkamis, which has been evacuated along with six other towns along the border.
Turkish counter-terrorism police also raided several homes in Istanbul, targeting Islamic State members in the early hours of Wednesday, detaining several people.
Interior Minister Efkan Ala said Turkey "cannot sit and watch", adding that it was Turkey's "legal right, it is within its authority" to act.
Turkey's President Recep Tayyip Erdogan confirmed the operation was to target Islamic State and the Kurdish PYD in Syria, adding that Turkey wanted to put an end to "frequent attacks".
Speaking in Ankara, he said that Turkey was seeking to "remove the shadow cast on the religion of Islam by Islamic State".
He added: "Nobody can see the Syrian issue independent from Turkey's internal affairs.
"The road to solving the terror problem passes through a solution to problems in Syria and in Iraq…Turkey will overcome threats originating from Syria."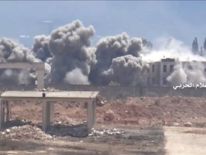 Bombs fall on Jarablus, in Aleppo province
As well as the threat from Islamic State, Turkey is also concerned about the growing influence of Kurdish groups in Syria's north.
It considers the PYD and its People's Protection Units (YPG) to be terrorist groups trying to carve out their own region, despite them also being an important part of the fight against IS.
Saleh Muslim, co-president of the PYD tweeted after Turkey's operation was confirmed that "Turkey is in Syrian quagmire, will be defeated as Daesh (will be)".
Redur Xelil, spokesman for the Syrian Kurdish YPG militia said the military operation was "blatant aggression in Syrian internal affairs".
The Karkamis border gate – the Turkish town was reportedly hit by mortar rounds
:: On Saturday, 54 people were killed when a suicide bomber, though to be acting on the orders of Islamic State, detonated a bomb at a wedding party in Gaziantep.
Gaziantep lies about 37 miles north of the Syrian border and there are fears that jihadists are infiltrating the city.
:: US Vice President Joe Biden is due to meet Turkey's leaders in Ankara later today, with Syria set to be top of their agenda.
Turkey has previously said that the ousting of Syrian President Bashar al Assad is the key to ending Syria's five-and-a-half-year war.
But its Prime Minister Binali Yildirim said during the weekend that Mr Assad may be needed as part of a transition, signalling a possible change in policy from Turkey.
Mr Biden is also likely to discuss Turkey's request to extradite US-based preacher Fethullah Gulen, who Turkey has blamed for encouraging last month's coup attempt.
Content retrieved from: http://news.sky.com/story/turkeys-tanks-approach-syrian-border-reports-10549554.