White House concerned by Russia's military moves in Syria
[dropshadowbox align="none" effect="raised" width="auto" height="" background_color="#ffffff" border_width="1″ border_color="#dddddd" ]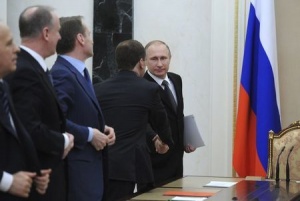 GAME UP: NATO are part and parcel of American military which are part and parcel of the Anglo-Zionist banker gangsters who are seeking Full Spectrum Dominance of Earth -they create Fiat Currency out of thin air and pass it off as money. It's a privatized currency scheme more in common with green-shield stamps than real money. They stole our exchange system centuries ago with their privately set up 'Bank of England' 27 July 1694, after they did a deal with their Dutch money-changer conmen counterparts to stage an invasion of England. In 1913 they took over America with their unconstitutional FEDERAL RESERVE ACT 1913. Is not federal and there are no reserves. After the JP. Morgan crash (deliberate) of 1907, Paul Warburg was paid $500,000 a year for 7 years to buy off other elites, bankers and industrialists not only in America but all across Europe. All bankers in The West are part of one family of pig-shjt. It's one complete system in which nobody ever tells the truth -they lie, cheat and set up wars from dawn to dusk. New territory = new jurisdiction zone.
They steal our birth certificates at birth and turn us into their economic slaves to live, work and die in ignorance of their cunning slavery scheme.

WAR AND TERRORISM ARE TOOLS OF NATO / The WH / CIA /Pentagon. They are Nazi type monsters: Part of their psychopathic plan is to imprint terror in the collective mind of Americans and the entire population of earth –to create an enemy.

Below: Full proof Obama and his banker buddies are the real hidden hand terrorists orchestrating all wars and terrorism -it is a tool these filthy murderous psychopaths are using to take down the whole of the ME and Ukraine -next stop the whole of Africa.

Wake up and smell the pig-siht: 12 mile long columns of oil tankers -thousands of them for years crossing into Turkey ..creating millions of dollars a day for ISIL ..and Obama and his CIA (+6 million security state employees) could not find them to destroy them or the terrorists –until Putin presented the satellite imagery OH PLEASE!!!!! ..$6 Trillion spent on wars to destroy countries = $75,000 per head = conjured up 'Fiat Currency Dollars' by Goldman Sachs et al conmen: All privatized Fiat Currency is created out of thin air as sign-here 'debt' +interest. -"That is what our money system is. If there were no debts in our money system, there wouldn't be any money" -M Eccles. Federal Reserve Board

You can fool some of the people all of the time, and all of the people some of the time, but you can not fool all of the people all of the time." Abraham Lincoln

"Nothing to hide -nothing to fear" ..believe me Obama/ WASHINGTON /Zionists lead the field.

Obama IS a terrorist who has been creating and funding terrorism all over the ME, Libya, Syria, Iraq –the plan was to take down the whole of Africa. We need to get the military properly schooled up NOW, de-brainwashed and back on The Peoples side: youtube: Wake up call: Obama and DHS prepare for civil war.

They have purchased 1.6 billion rounds of hollow point ammo +built over 650 FEMA camps kitted out with over 2 million enormous leak-proof coffins for mass burials.

We all know WASHINGTON DISTRICT OF COLUMBIA is controlled by Zionists who are the ultimate fascists hiding in the Jewish and Protestant religions. They murdered Kennedy and took over. All the the presidents since then with the exception of Jimmy Carter (search:The Accidental President) have been Zionist-bankers puppets.

SYRIA: Now the worst conflict of the 21st century –with 470,000 dead -9 million wounded. +Fuelled the biggest refugee / migrant crisis since WW2 (source UN)

FALSE BILL OF SALE: AVERTING WW3: Truth is Hope: Information Pack

Make no mistake about it folks –in the last century Turkey's shooting down of Russia's fighter jet would have started a war.

Vladimir Putin Press Conference: -"Our plane was downed by missile fired from Turkish F-16. We were stabbed in the back by terrorists' accomplices."

Obamas' immediate response -'its between Turkey and Russia'

Oh really O'Liar -it is a fact of 'terms and conditions' that NO COUNTRY WHO OWNS A U.S. BUILT FIGHTER JET MAY USE THAT AIRCRAFT FOR COMBAT WITHOUT PRIOR PERMISSION = FACT = OBAMA IS A F'KN WAR CRIMINAL -A LIAR. We are on a dangerous trajectory

Talk about shirking on your responsibilities.

We got a Problem here -It's called WW3 or is it WW$/£ Bankers war?

-"That is what our money system is. If there were no debts in our money system, there wouldn't be any money" -M Eccles. Federal Reserve Board

Walk the f-out of Walt Disney Alice-in-Wonderland folks ..we've been Donald ducked up the a hole by this lying piece of rectal feeding pig-siht and his con-men banker bosses –Goldman Sachs et al con-men who have robbed half the planet blind, WHO ARE OUT TO RULE THE WORLD -aka FULL SPECTRUM DOMINANCE –WE ARE LIVING UNDER A CLOUD OF MASS PSYCHOSIS

(Wake Up Call: Obama DHS Prepares For Civil War)

Without Facts it all blurs into rhetoric and propaganda.

FACTS:

RUSSIAN MILITARY: -"Downed jet did not violate Turkish airspace

MOSCOW: We have evidence it was a pre-planned operation

Folks -it was a premeditated NATO-US-UK-Israeli TRAP -set waiting for the Russians to fly near the border probably designed to spoil the relations between Russia and Turkey and create more chaos –even provoke Russia into a full war with The West

TRAGEDY: MI5 Helicopter shot down -at least one Russian soldier killed

NEXT: RT HD (Russia Today tv) Russia launched 8 helicopter search and rescue mission

NEXT: RT HD –showing a clear / quality video of ISIS missile strike of helicopter on ground. The video purporting to show Syrian rebels using US.-made TOW MISSILE

RT HD show the body of one dead pilot -and rebels masturbating with joy -shouting Allah Ackbar etc

NEXT: Surviving pilot says –"Turkish jets gave no warning, shot us on sight from behind. We should take into account the speed of our jet. (270) If they had wanted to they could easily have come parallel and given us a visual warning."

FACT: Joe Biden recently accused Turkey of financing ISIS.

Turkey is a main sponsor of ISIS –along with 40 other coalition members

FACT: WASHINGTON have been bombing in Syria (illegally) for 14 months -but couldn't hit the 1,000+ oil tanker convoys?? (don't you think that strange folks?)

FACT: Richard Black –Virginia State Senator –"over 300 air strikes, 297 on the Kurds"

FACT: Turkey have been bombing the Kurds who have been fighting ISIS -per instructions from London / Israel / Washington -helped to nurture ISIS in every way at every turn

NEXT: REPORT -Turkey business men buying up oil from ISIS / Syrian rebels –Turkey authorities cooperating. Also; pipelines identified

NEXT: Russia Military: says destroyed 1,000 oil tankers in five days

NEXT: European MP's blast Turkey's links to terrorists +dangerous policies; Quote –"Finally, the fight against ISIL permits Erdogan to justify Turkey's military operations against the Kurds in Syria, and to divert attention from Turkey's hegemonic attitude." –Nicolas Dhuicq –member of the French National Assembly

HYPOCRISY: Turkey shot down Russian jet for what it claims was a 17 second intrusion. This despite committing hundreds of its own 'airspace violations' against other countries.

According to [source: Greek air Force General Staff ] Turkish war planes violate Greek airspace 2,502 times between 2014 -2015 (!!)

In 2012 Syria shot down Turkish fighter. [ Erdogan –"Even if the plane was in airspace for a few seconds, that is no excuse to attack. ] [ then when he blows the Russian jet out of the sky 15th November 2015 he says –"The Russian plane was in Turkish airspace for 17 seconds. Our F-16s shot it down in line with turkey's rule of engagement." –Recep Tayyip Erogan –(now president)

2012, General Staff of The Republic of Turkey: [ -"Air space violations are incidents that happen every day, and are resolved in a matter of minutes without .." ]

Turkey's actions were completely unjustified

It's obvious it was an ambush -they are desperate to take down Syria to install a magic-money central bank 'Fiat Currency' slavery scheme –another country for Obama's paymaster Goldman Sachs to rape, plunder and enslave.

.Bomb -Divide -Rule = Conquer. The age old dream of the money changers = EMPIRE

We are only starting to uncover the truth. Men of principle have known for centuries but could do little to bring about change.

This is a time for the strong to face the truth about the evil hidden hands who control America and The West, eg.James Clapper lied to Congress –why? They are on a mission to take down all these countries –including Ukraine and Russia. They have lost touch with the quality of being a human being with mercy and kindness –they have no conscience whatsoever and they lie from dawn to dusk –especially Obama and Cameron who are essentially puppets. They don't care how many million people they murder -they will simply replace us/ them with their ideal compliant socially engineered brainwashed Pavlov dog types. They are Dr Evil psychopaths with only one goal in mind -full spectrum dominance and the totalitarianism dictatorship of Earth –the bonus being that they will never face trial.

~~~~WW3 BUILD UP EVENTS CONTINUED

TURKEY ~~NEXT: BOATS OF DEATH

3,500 LOST THEIR LIVES IN 2015 (source UNHCR)

20th January 2016: BBC NEWS REPORT FROM WESTERN TURKEY COAST:

BBC Reporter Fergal Keane is staked out in a known boat people smuggling area . After some time a coach arrives and about 50 migrants disembark. Some time later a large blue Turkish police van arrives and assesses the situation, but then clears off without any intervention. Shortly after, four small vans arrive with the smugglers. They unload two inflatable boats and engines. They are furious when they spot Fergal and threaten him ..one says: -"I have gun on my belly and I will take it out and shoot you, ..so lets go." The migrants and people smugglers load up the boats and head off in the direction of Greece. Fergal reports it is about a two and a half hour crossing. ]

TURKEY: KURD FUNERAL MASSACRE: JAN 23RD 2016

CIVILIANS MOWN DOWN IN BLOODBATH BY TURKEY MILITARY

Youtube: Graphic Turkish Army shoots Kurds during a Funeral

[ Published on Jan 23, 2016: The Turkish forces killed some Kurds while they were trying to carry a coffin and despite they were waving a White Flag but it didn't save them from being killed ]

NEXT: Erthugrul Gunay: Former Turkish Culture Minister Interview aired 6th Feb '16

-"Ankara is trying to create a climate of fear. .. I suspect they have things they are afraid of themselves. .. Erdogan is trying to guide and influence the judiciary, which is a very grave development for democracy. By doing this he tries to keep his power permanently."

NEXT: Erdogan has charged 250+ people for insulting leader Vs only one charged under previous FOUR leaders.

NEXT: REPORT 26Tth Nov 15: Turkish journalists jailed over report on government weapons smuggling

Pew poll: 49% of Turks are dissatisfied with the way their democracy is working (Jan '16)

Amnesty International –"The draconian restrictions imposed during indefinite curfews increasingly resemble collective punishment, and must end."

NEXT: KURDS MASSACRED: Described as collective punishment on the Kurdish population –Obama and British Empire Mob United all turn a blind eye –with no media coverage. Blackout

PRESS RELEASE ARTICLE: Feb 2nd 2016 –Asim Murat Okur: [ An uninterrupted curfew is being imposed in the Cizre district ….since December 14 2015. According to findings of human rights organisations 66 civilians have lost their lives in Cizre only in this period since December 14th, 2015 …under fire from security forces ..]

NEXT

YEMEN -THE SECRET WAR: 30,000 DEAD OR WOUNDED

THE SAUDI BUTCHERS ARE TAKING DOWN YEMEN –BACKED ALL THE WAY –AIDED AND ABETTED BY THE BRITISH EMPIRE "CORPORATION OF LONDON" Con-men …Scottish MP Angus Robertson -"Isn't it time for the Prime Minister to admit that Britain is effectively taking part in a war in Yemen that is costing thousands of civilians lives and he has not sought parliamentary approval to do this?" [broadcast live on BBC News ]

British Parliament: Cameron put on the rocks

search The Independent

snipped [David Cameron has been accused of silently dragging Britain into another conflict in the Middle East without parliamentary approval or oversight.

Angus Robertson, the Scottish National Party's leader at Westminster, said the Prime Minister should admit to British involvement in Saudi Arabia's invasion of Yemen – where the UK is providing arms, training and advice.

The call comes as new figures released by the Government show that British bomb and missile exports to Saudi Arabia have increased by 11,000 per cent from £9 million to £1 billion over three months last year.

Saudi Arabia has been accused of war crimes by human rights groups and the legality of British military assistance to the country has been questioned by campaigners.

"Thousands of civilians have been killed in Yemen, including a large number by the Saudi air force and they've done that using British-built planes, with pilots who are trained by British instructors, dropping British-made bombs, who are coordinated by the Saudis in the presence of British military advisers," Mr Robertson said during Prime Minister's Questions.

"Isn't it time for the Prime Minister to admit that Britain is effectively taking part in a war in Yemen that is costing thousands of civilians lives and he has not sought parliamentary approval to do this?"

The Prime Minister rejected the suggestion that the UK was taking part in the conflict but admitted that British advisers had a role in Saudi Arabia.

NEXT: YEMEN — THE SAUDI ROYAL FAMILY are now bombing Yemen. This is almost a secret war kept out of corporate media –Obviously that butcher Saudi family dictatorship who just be-headed 47 of their dissenters on New Years Day are in full sexual relations with Israel-London-Washington –all shagging each other so to speak –going for Full Spectrum Dominance in the Middle East region and Africa where it is known the Pentagon-CIA have special ops [ in 124 countries and who are droning in 14 countries.-see list * CIA Church Committee Inquiry into CIA misdeeds and Contra ..]

NEXT: SAUDI PILOTS PROMISED NEW BENTLEYS FOR TAKING PART IN BOMBING YEMEN

-"In a sign of gratitude to the Saudi pilots participating in the operation, I have the honour of giving them 100 Bentley cars." Tweet @ Alwaleed_Talai ..4/21/15, 22:07

For the last 20+ years it has been easy to spot where war involving USA / UK will break out, just look for the remaining nations without a phonies central bank

NEXT: SAUDIS DESTROY 1,000 SCHOOLS IN YEMEN: 1) "254 are completely destroyed." Source: Yemen's ministry of education. 2) Amnesty International : -Hundreds of schools intentionally bombed by the Saudis." [December 2015 ]

NEXT: It is a Western media myth that the Syrian war started with peaceful protest. The evidence shows it was fomented by outside forces -namely CIA / MOSSAD / British MI5 all of whom work in tandem like a pack of hyenas tearing their prey to pieces.

TURKISH MP: PROSECUTOR'S OFFICE RELEASED SARIN GAS SMUGGLERS;

Eren Erdem –Turkish MP, Republican People's Party -"Sarin materials were brought via Turkey and combined in ISIL camps …. All detainees were released after a new public prosecutor took over the case ..they left Turkey .. Everything was discussed A – Z, dates and all that was discussed –everything was recorded. As far as I understand this case was closed –just to place blame on Syria."

[The attack was pinned on Assad at the time 2013. The West is being hypocritical over it. They claimed that regime forces were behind it. ]

NEXT: WASHINGTON EVIL ON AN UNIMAGINABLE SCALE AND PROOF OF HIGH LEVEL COLLUSION

youtube; Wes Clark America's Foreign Policy "Coup"

Retired 4-star General Wesley Clark says he was told 2 weeks after 9/11 "They planned to take down 7 countries in 5 years,

Iraq

Syria

Lebanon

Libya

Somalia

Sudan

Iran

We've got about five years to clean up the Soviet client regimes"

THE HARD COLD FACTS AND EVIDENCE IS –WASHINGTON D.C, Britain, France, Turkey & Gulf monarchies are long supporting Jihadists in Syria.

ISIS /Mujaheddin / Al Qaeda etc, etc, were ALL created by WASHINGTON, Britain / Israel / France and Saudi Royals as proxy terrorists to create 'legitimate grievances' in the minds of The People and proxy wars. It is an ancient 'control by fear' mechanism' used by every dictator in history to dupe the masses, now being used to take down Syria and the whole of Africa. Don't forget Reagan desperately tried to murder Gaddafi by bombing his residence, which is total proof WASHINGTON is a bucket of filthy murderous lying rectal feeding pig-siht

Colonel Wilkinson –"We are today a Plutocracy ..that's what we have in this country." — Lawrence B. "Larry" Wilkerson (born 15 June 1945) is a retired United States Army Colonel and former chief of staff to United States Secretary of State Colin Powell. Wilkerson has criticized many aspects of the Iraq War, including his own preparation of Powell's presentation to the UN.

FALSE BILL OF SALE

SOLDIERS: there were no WMD's in Iraq and it was an illegal war by the UK / USA The U.S. / Zionists have bombed / invaded 14 Muslim countries since 1980 now why is that folks???

Two to three million Muslims are now dead = massive war crime. Why hasn't Bush et al been indicted?

What happens if 14 countries come over and bomb the U.S. and murders millions of Americans?

See how the WASHINGTON phonies deceitfully lie and manipulate congress and The People. It's called being hoodwinked and duped. This BS needs to stop right now –and the pig-siht rooted out –trialed up and executed.

As Napoleon pointed out: "Terrorism, War and Bankruptcy are caused by the privatization of money, issued as a debt and compounded by interest "- he cancelled debt and interest in France – hence the Battle of Waterloo. Bankers 9:1 fake money mix = One way ticket to Hell –they call it leverage and 'fractional reserve banking'

–"If voting made any difference –they wouldn't let us do it" -Mark Twain

Voting is a complete con. It's a two party win-win system -all rigged by the ponzi scheme Fiat money powers. Research proves Obama as Bush, was selected and groomed for presidency over a decade ago.

How much blood of our sons, daughters, fathers and mothers will it take before people wake up?

The money changers are the 'hidden hands' pulling the strings

Their plan is endless wars sold on to us on the back of endless lies, including "war on terror"

Why waste time and energies in even trying to believe ANYTHING the so called "government" and media tell us?

Help save and rebuild America and the world: Search One People Public Trust 1776 + Democracy Now + ANSWER Coalition etc

Helpful youtubes: The true power we hold, how we gave it away… and how we get it back -all in the pursuit of freedom, truth and happiness

1) Meet your Straw man

2) Money as Debt 47m –brilliant animation –fun to watch -easy gradient –suitable for children

3) Bill Stills 1996 "The Money Masters" The most comprehensive non fiction historically accurate documentary ever –highly researched with precise timelines.

The Phonies Game Plan –it's a broad picture which goes back very far –but it not very complicated. Invade countries –install puppet government -set up central bank –print money.

This is how the snidey vultures murdered their way to the top of a ponzi pyramid fake money scheme and created a slave society

Check out THE ACT OF 1871 -The phonies I speak of annexed a 10 square mile 'parcel of land' for themselves ~~~~~ THE ACT OF 1871 ~~~~~ It's a carbon copy of THE CORPORATION OF LONDON

One of the key events in history is — The ACT OF 1871 —

Read this ACT OF 1871 article below

Excerpt from article; snipped

[..The date is February 21, 1871 …Congress passed an Act titled "An Act To Provide A Government for the District of Columbia"

This is also known as the "Act of 1871

"What does this mean?

Well, it means that Congress, under no constitutional authority to do so, created a separate form of government for the District of Columbia, which is a ten mile square parcel of land.

What???

How could they do that?

Moreover, WHY would they do that?

To explain, let's look at the circumstances of those days.

The Act of 1871 was passed at a vulnerable time in America. Our nation was essentially bankrupt — weakened and financially depleted in the aftermath of the Civil War.

The Civil War itself was nothing more than a calculated "front" for some pretty fancy footwork by corporate backroom players. It was a strategic manoeuvre by European interests (the international bankers) who were intent upon gaining a stranglehold on the neck (and the coffers) of America…… devised a brilliant way of getting their foot in the door of the United States (a prize they had coveted for some time, but had been unable to grasp thanks to our Founding Fathers, who despised them and held them in check), and thus, the Act of 1871 was passed.

In essence, this Act formed the corporation known as THE UNITED STATES. Note the capitalization, because it is important. This corporation, owned by foreign interests, moved right in and shoved the original "organic" version of the Constitution into a dusty corner. With the "Act of 1871," our Constitution was defaced in the sense that the title was block-capitalized and the word "for" was changed to the word "of" in the title. The original Constitution drafted by the Founding Fathers, was written in this manner:

"The Constitution for the united states of America".

The altered version reads

"THE CONSTITUTION OF THE UNITED STATES OF AMERICA". It is the corporate constitution.

It is NOT the same document you might think it is.

The corporate constitution operates in an economic capacity and has been used to fool the People into thinking it is the same parchment that governs the Republic. It absolutely is not.

Capitalization — an insignificant change?

Not when one is referring to the context of a legal document, it isn't.

Such minor alterations have had major impacts on each subsequent generation born in this country.

What the Congress did with the passage of the Act of 1871 was create an entirely new document, a constitution for the government of the District of Columbia.

The kind of government THEY created was a corporation.

The new, altered Constitution serves as the constitution of the corporation, and not that of America. Think about that for a moment.

Incidentally, this corporate constitution does not benefit the Republic.

It serves only to benefit the corporation. It does nothing good for you or me — and it operates outside of the original Constitution.

So, Congress committed TREASON against the People, who were considered Sovereign under the Declaration of Independence and the organic Constitution.]

~~~~~~ HOLD TIGHT FOR THE UN'FKN'BELIEVABLE

Make up your own minds folks, but I believe and am absolutely certain this is the crux of our problems and the greatest +most evil CON in history WASHINGTON D.C = The private bankers aka the money changers hideout and CORPORATE ARMY — THE HEAD OF THE SNAKE

Thereby tricking Americans to join THEIR army to adhere to their purposes and commands ..a massive deception and crime in itself against the constitution and The People ..but possibly a million times worse –from there -I am telling you folks -they are running EVERY country in The West and treating the United States in the exact same way (legally / corporately) ..just as any and every other country in The West …as a corporate for profit entity which might as well be a McDonald's burger business on Mars!!!

We have discovered that ..The United States, Canada, Australia, The United Kingdom, Ireland, France, Italy, Brazil, Japan, South Africa…. and the list goes on…. all are US-based corporate entities, registered as such with the United States Security & Exchanges Commission in WASHINGTON DISTRICT OF COLUMBIA -10 square mile 'parcel of land' annexed from America.

= expansion of money-changers Empire

We The People have been conned by the phonies on a Biblical scale since the Civil War which they also set up after Andrew Jackson rescinded their banking CHARTER. The timeline and paperwork trail prove it.

Square up the facts and you'll soon start to see through the phonies smoke screen. They are attempting to achieve Full Spectrum Dominance of Earth using and abusing us to build and power their corporate war machine -the most evil dream of empire in Earths history.

Hence all the CIA WORLD GOVERNMENT TAKE DOWNS -see list at — Results of the 1973 Church Committee Hearings, on CIA misdeeds, and the 1984 Iran/Contra Hearings

Hence Obamas' constant lies and take down of Libya, Syria and now Ukraine -he's working for the phonies -chosen and groomed for the job.

It's hard to get people to see any different when they believe they are free.

LOW INFO VOTERS AND THE CORPORATE NARRATIVE: Americans can no longer tell the difference between what is presented as truthful News on tv and in the media and what is false –why?

We've been played for stupid since the Anglo-Zionist bankers stole our exchange system on Christmas Eve 1913 –with their deceitful and unconstitutional FEDERAL RESERVE ACT 1913

Who are we at war with? If the president and his banker buddies and the corporate owned and controlled media all have the winning horses in the race to achieve full spectrum dominance of Earth –well naturally they have to lie to The People to win!

Terrorists we can pick up, remove from society. But they are just a boil. Underneath is a cancer that is much more difficult to treat."

No one likes to admit they've been Donald Ducked up the a hole by their own government and bankers .. Get over it. Ignore the facts at your peril

Get on the road to freedom folks ..get access to the truth

Wake up to what is occurring:

England / U.S. / The West -is ONE BANKING EMPIRE run and controlled by the money changer con men originating in their private Bank of England 27th July 1694 after they executed Charles-I and purged parliament. Example of todays names: The Rothschilds, Shiffs, Warburgs, Goldman Sachs, Rochefellers, Morgan

PRIVATIZING THE DOLLAR …PRIVATE MONEY PONZI SCHEME +INTEREST =SLAVERY

WHO OWNS THE FEDERAL RESERVE – The curtain comes up -people see the truth

There has been much speculation about who owns the Federal Reserve Corporation. It has been one of the best kept secrets of the century, because the Federal Reserve Act Act of 1913 provided that the names of the owner banks be kept secret. However, R. E. McMaster publisher of the newsletter The Reaper, asked his Swiss banking contacts which banks hold the controlling stock in the Federal Reserve Corporation. The answer:

Rothschild Banks of London and Berlin

Lazard Brothers Bank of Paris

Israel Moses Sieff Banks of Italy

Warburg Bank of Hamburg and Amsterdam

Lehman Brothers Bank of New York

Kuhn Loeb Bank of New York

Chase Manhattan Bank of New York

Goldman Sachs Bank of New York

In The Secrets Of The Federal Reserve, Eustace Mullins indicates that, because the Federal Reserve Bank of New York sets interest rates and controls the daily supply and price of currency throughout the U.S., the owners of that bank are the real directors of the entire system. Mullins states:

"The shareholders of these banks which own the stock of the Federal Reserve Bank of New York are the people who have controlled our political and economic destinies since 1914. They are the Rothschilds, Lazard Freres (Eugene Mayer), Israel Sieff, Kuhn Loeb Company, Warburg Company, Lehman Brothers, Goldman Sachs, the Rockefeller family, and the J.P. Morgan interests."

THEY PRINT IT – WE BORROW IT AND PAY THEM INTEREST

An example of the process of currency creation and its conversion into "people's debt" will aid our understanding. The Federal Government, having spent more than it has taken in exchange for the government's agreement to pay it back with interest. So Congress authorizes the Treasury Department to print $1 billion in U.S. Bonds, which are then delivered to the Federal Reserve bankers. (The bonds are a kind of "IOU" that bears interest.)

The U.S. Treasury prints $1 billion in bank notes. The printing cost is about $20.62 per 1,000 bills – it costs the same irrespective of the denomination – the cost of printing a $1 note is about the same as for a $100 note: about .0206 cents. The Federal Reserve "buys" these bills from the U.S. Treasury, paying only for the printing costs. The bills are then exchanged at full face value for the bonds. The government uses the currency to pay its obligations. What are the results of this fantastic transaction? Well, the government's bills are paid all right, but the U.S. Government has now indebted the people to the Federal Reserve bankers for $1 billion plus interest. ]

Remember the day at school when they taught us how the Rothschilds et al so called "bankers" create and print money OUT OF THIN AIR???

No, I don't either.

It's a cunning form of SLAVERY run by the Anglo-Zionist con men banking empire who took over America on Christmas Eve 1913.

It's unimaginable evil –we've been lied to and cheated on an industrial scale.

We're been led by the nose by out of control politicians and con-men filth posing as bankers who create 'green-shield stamp' currency out of thin air and pass it off as money. These vermin need full rehabilitation behind bars for a very long time.

We need to reformulate and re-orientate the military and turn it into a force for good which exemplifies courage, ethics and principles as originally intended.

GETTING ON THE ROAD TO FREEDOM

Visit One People Public Trust 1776 iuv com / The Slavery System / Removing the Veil.

Help fix things before the whole world is completely destroyed by these Dr Evil psychopaths and phonies madness and wars.
[/dropshadowbox]