Corbyn Vows to Immediately Recognize a Palestinian State If Elected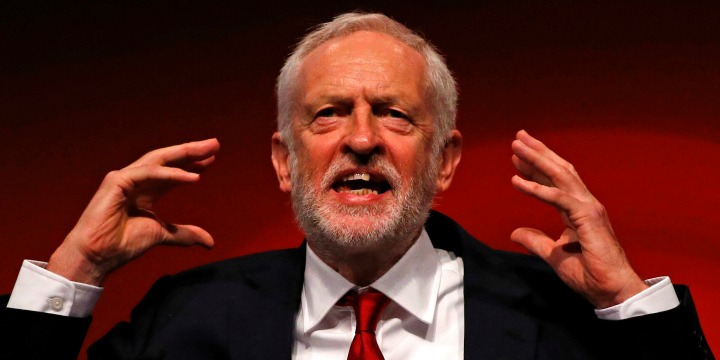 Speaking at the British Labour Party's annual conference in Liverpool, leader Jeremy Corbyn announced that he will immediately recognize a Palestinian state if he is elected prime minister. At the same time, Corbyn sought to reassure British Jews, with whom he has been locked in a bitter conflict over antisemitism in the party's ranks, that they are still regarded as "allies."
"In order to help make the two-state settlement a reality we will recognize a Palestinian state as soon as we take office," Corbyn told the assembled delegates in his keynote speech.
Corbyn received a standing ovation for his pledge.
Dozens of Palestinian flags were distributed to the audience during the conference, while attendees shouted pro-Palestinian slogans and speakers relentlessly slammed the Jewish state. The Labour leadership itself approved the flag-waving.
One speaker, anti-Zionist activist Hilary Wise, recommended that audience members watch an Al Jazeera documentary "if you want to know how that orchestration works," referring to charges on the far left that Labour's antisemitism crisis has been manufactured to undermine Corbyn's leadership.
The far-left, pro-Corbyn Jewish Voice for Labour organization posted photographs on Twitter of kippah-wearing Jews, writing, "This is exactly how frightened kippah wearing Jews are in the middle of #LabConf18 during the Palestine debate. That's right, not at all."
Corbyn himself was once again caught palling around in disreputable company when he was photographed outside the conference with Israeli anti-Zionist activist Miko Peled, who has called for the destruction of Israel, said "Jews have a reputation for being sleazy thieves," and defended Holocaust denial, saying, "The label 'Holocaust denier' is too often thrown at people who present perspectives of the Holocaust that disagree with those who would have a monopoly on the discourse, i.e. the Zionist establishment."
Addressing the ongoing issue of antisemitism in his speech to the delegates, Corbyn praised of himself and his party for their supposed anti-racism, saying to the Jewish community, "We are your allies." Nonetheless, he appeared anxious to put an end to the entire controversy, saying, "I hope and believe we can work together to draw a line under it."
Content retrieved from: https://www.algemeiner.com/2018/09/26/corbyn-vows-to-immediately-recognize-a-palestinian-state-if-elected/.