Diane Abbott is ashamed to be British
Teeth checks make me ashamed to be British, says Diane Abbott: MPs accuse Shadow Home Secretary of being out of touch with voters following her comments
Shadow home secretary accused MPs of treating migrants 'like cattle'
She attacked them for saying there should be teeth X-rays for refugees
Jeremy Corbyn's ally also accused the government of being racist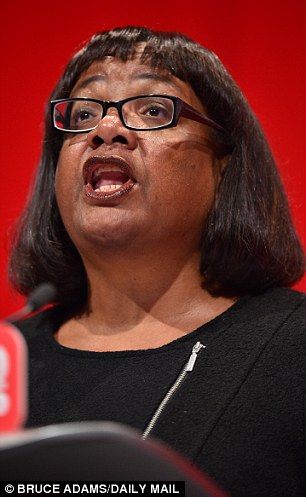 Diane Abbott sparked anger yesterday after she said she felt 'ashamed' to be British
Diane Abbott sparked anger yesterday after she said she felt 'ashamed' to be British when MPs called for the age of migrants to be assessed using dental checks.
The shadow home secretary accused politicians of treating migrants 'like cattle' as she attacked them for saying there should be teeth X-rays for youngsters coming to Britain from the Calais 'Jungle'.
In a speech over the weekend, Jeremy Corbyn's ally also accused the government of being racist.
Calls for the tests surfaced last week amid mounting concern that adult refugees are lying about their ages to gain entry to Britain.
Labour's ex-home secretary Jack Straw was among those who backed the introduction of dental tests to check age of the 'child' refugees.
Speaking at a Labour assembly against austerity event on Saturday, Miss Abbott said: ''What commentators in this country have to understand is that nobody would leave their home, cross the Sahara in many cases, risking their lives, cross the Mediterranean, in particular risking their lives, if they were not desperate.
'If they were not facing catastrophic war. And I have to say that I'm ashamed of being a British person when you have British members of parliament suggesting you should treat refugees like cattle, and test their teeth, what has this country come to?'
She also said the government was responsible for 'catastrophic economic outcomes', adding: 'It also happens to be one of the most racist governments that I have experienced as a member of parliament for 30 years.'
Scroll down for video 
Last night MPs accused her of being 'out of touch' with British voters.
Tory MP Philip Davies said: 'Diane Abbott is the one who has shown how out of touch her and the Labour party are with public opinion.
'She should be ashamed that Britain has been taken for a ride and treated like mugs. Our generosity is being abused.'
Her comments came after she faced criticism for saying people who were concerned about freedom of movement do not like seeing people who look 'foreign' on their streets.
As Labour's health spokesman last month she said 'people who talk Brexit' had 'attacked and assaulted' ethnic minority voters and East Europeans after the referendum.
Speaking in the Commons yesterday she shrugged off concerns that some adult migrants might be pretending to be children to get into Britain.
Diane Abbott says calling Labour anti-Semetic is a 'smear'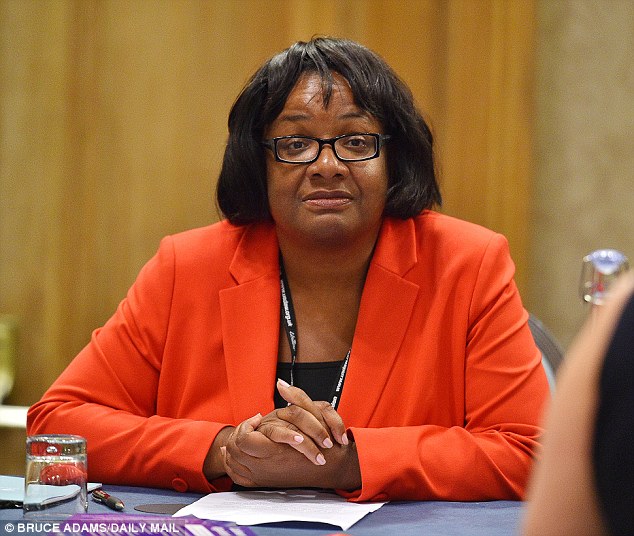 In a speech over the weekend, Jeremy Corbyn's ally also accused the government of being racist She condemned the British Government's failure to ensure that all children in the squalid camp were spoken to and assessed before it began to be cleared by the French.
She added: 'The media is in uproar about the supposed failings in the processing, and commentators are in a lather over whether some of these children are 17 and a half, 18 and a half, or, God forbid, 19 and a half.
'As if being a year over the legal definition of childhood makes you miraculously immune to illness caused by freezing temperatures and raw sewage in front of your tent, fear caused by violence, and the deadly attentions of sex traffickers.
'If the commentators who are now suggesting that these young people should be treated like cattle and have their teeth tested had made as much noise about the Government's slowness in processing these child refugees in the first place, we would not be in the situation we are in.'
A spokesman for Diane Abbott said: 'Diane Abbott MP, spoke around the Tory government scapegoating of immigrants to distract from their failing policies.
'She said that this government is one of the most racist and damaging that has come into power since she became an MP nearly 30 years ago.
'She said it made her ashamed that Members of Parliament called for the teeth of refugee children to be inspected, as if they were livestock.
'Diane Abbott is proud of being British and has long campaigned against racism and xenophobia, even when it was dangerous and unpopular to do so, she will continue to do so as shadow Home Secretary.'   
Content retrieved from: http://www.dailymail.co.uk/news/article-3868888/Age-checks-make-ashamed-British-says-Diane-Abbott.html.